National Institute of Public Health was established on April 1st, 2002, integrating The Institute of Public Health, National Institute of Health Services Management and a part of the Department of Oral Science in National Institute of Infectious Disease.
The mission of the new organization is to carry out education and training of the personnel engaging in the works of public health, environmental hygiene and social welfare, and to conduct research in these areas.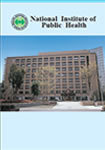 You can see the pamphlet of National Institute of Public Health from here.



National Institute of Public Health pamphlet

i6.0MBj